Downloading stuff is a must-do thing. I download so much stuff my 300GB's almost full. But I don't download them via my browser's download manager. If you use Chrome, you know its download manager is crap. You can only see about 5 downloads and that's the max it can show. Mozilla's is better, because it doesn't have a limit of showing your downloads but it opens a new window unlike Chrome. So far, the
best
two best download manager I used so far is Free Download Manager and FlashGet. If you're using Chrome, forget Flashget and go for Free Download Manager. Flashget doesn't support Chrome but FDM(Free Download Manager) does.
Both download managers don't DO have floating drop boxes(a box to drop download links). Flashget does support torrent downloads however, so consider that too. FDM doesn't support torrents ): If you want to download torrents, that's a different story. Check out my review on uTorrent(the best, most lightweight torrent downloader). Free Download Manager's interface looks like this(image below)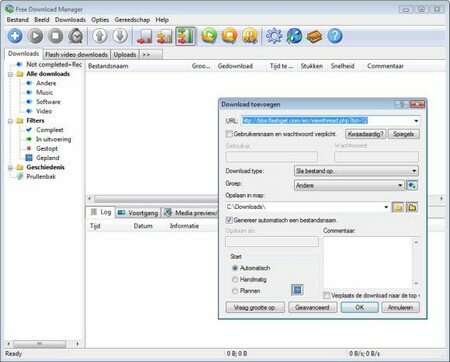 Free Download Manager's interface(sorry for crappy quality ): )


FlashGet's interface looks like this(image below)
Flashget's interface
Flashget is more for Firefox users and it features the most stable integration. I use FDM because I use Chrome. Don't look down on FlashGet, its a strong competitor, and it is FREE.
Free Download Manager
Pros
Supports Safari, Chrome and Opera.
Started earlier than FlashGet.
No ads
Cons
Doesn't split the download parts as many as FlashGet does.
Faces the "it just won't download" problem.
Needs to open another window for that specific download.
FlashGet
Pros
Splits the download to 30 parts.
Best integration with FireFox.
Doesn't need to open another window for a specific download like Free Download Manager.
Supports BitTorrent downloads.
Cons
LOTS OF ADS ):
Some of the features are in Mandarin(Chinese).
Doesn't look as good as FDM.
Doesn't support Chrome, Opera and Safari.
DOWNLOADS